Last month, I blogged about
the best cupcakes on this side of the world
. (I'll be accused of being biased if I say "in the entire world" -- no matter how true -- since the makers are some of my best friends. "On this side of the world" maintains my journalistic integrity.)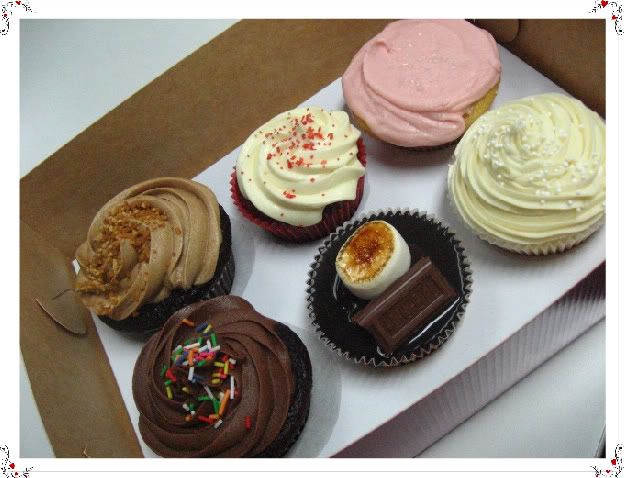 Biting them is almost such a sad occasion, as if you're destroying a work so precious, so pure... until you sink that mouth into that puffed bread, and the icing and all that sugar melts. All create a symphony of flavors no words can ever give justice to: screw precious; you are Sue Slyvester.
This month, Sugar Lab is introducing its new flavor, the

Gold Member
: rich chocolate hazelnut cake with the heart of a perfect
Ferrero Rocher chocolate, topped
with pure Nutella frosting.
That's luxury right there.
To order, e-mail

sugarrushlab@gmail.com

or contact

+63 917 856 0049

.
I suggest you get a box of 12 with all the different flavors in it. Below are Sugar Rush Lab's other offerings:
Menu


*click on the names to learn more*
Smoreshmallow Cupcake P75
Two layers of graham goodness hide an ooey-gooey marshmallow creme filling, topped with freshly made chocolate ganache, a toasted marshmallow and a perfect piece of Hershey's milk chocolate. Sugar Rush Smoreshmallow is a delightful treat that is surprisingly not too sweet.
Dark Ninja P50
It's dark, it's strong and it disappears really fast. This rich chocolate cupcake topped with chocolate buttercream frosting and sprinkles is a real killer.
White Ninja P50
Don't be fooled, this vanilla cupcake is no weakling. Its rich buttercream frosting will make you want to spill all your secrets. Grab it fast, these White Ninjas never stay around too long.
Red Velvet Dream P65
A party in a cup. Rich red velvet cake topped with special pink cream cheese frosting and red sugar sparkle.
Coffee Squared P55
Forget the trip to your favorite coffee shop – this cupcake can give you the caffeine fix you need. A strong coffee base topped with a delicious coffee buttercream frosting and dusted with just the right amount of cinnamon – this cupcake will leave you wanting more. Don't say we didn't warn you.
Coffee Toffee P55
Can't decide between coffee and chocolate? Who says you have to? Enjoy a rich chocolate cake topped with a yummy coffee buttercream frosting and sprinkled with toffee crunch.
Gold Member P100
This cupcake will drive you wild. Rich chocolate hazelnut cake topped with pure Nutella ganache. One bite reveals a perfect Ferrero Rocher chocolate inside.
Strawberry High P65
Rich yellow cake topped with frosting made using fresh strawberries and sprinkled with white sugar sparkle. Strawberry Shortcake will go crazy for this cupcake.