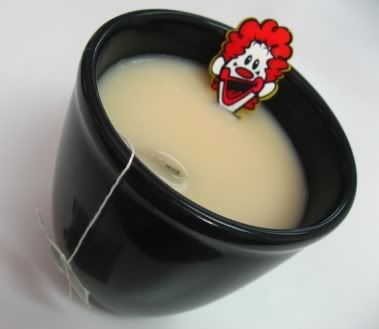 So Cleopatra

. My stirrer, McDonald's, looks like he's enjoying a milk bath, lol!
What you need:

mug
tea, any variant (I use Twinings but I'm sure any brand will work)
a heap of creamer
sugar to taste

Instructions:

Um, place teabag inside mug. Pour hot water, creamer and sugar. Stir... and voila! Your very own Chai Tea Latte, lol!
Ang ghetto, ba?
LOL.
It may not be as good as Coffee Bean's but I personally think it's way better than Starbucks'! (
My review
of Starbucks' Chai Tea Latte when it was first launched here. Not sure if it has improved.) I've tried Twinings' Earl Grey, Green Tea & Lemon and Green Tea & Mint -- and they all taste good, albeit each flavor has varying degrees of zing. You'll just have to adjust the amount of water, creamer and sugar to get the right consistency/taste. Try it!